We have been specialising in conquering your fears, since 1988!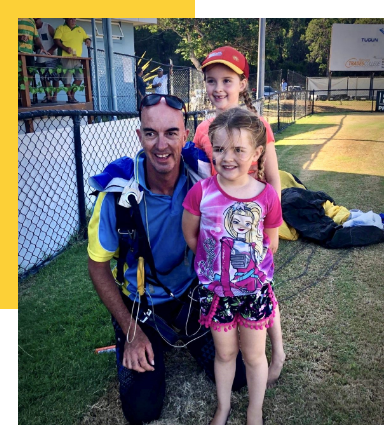 Gold Coast Skydive is a family owned and operated local business that has been going since 1988.
Chief instructor and owner Archie Jamieson was involved in the setting up of the business back in 1988. Archie began skydiving in 1986 and at the time was a trainee manager for Coles. In 1994 Archie turned his passion into his career and while heavily involved in the competition side of the sport he managed several drop zones around Australia and New Zealand. Returning to the Gold Coast in 2004 he took up the role of general manager at Gold Coast Skydive. In 2008 Archie and partner Samantha bought the company.
Since then Archie has turned Gold Coast Skydive into one of the world premier tourist destinations. With exceptional facilities we take off from Gold Coast International airport and land on the iconic Kirra Beach. With a fleet of 3 aircraft and views that will take your breathe away you would be hard pressed to find a better location anywhere in the world to experience your first jump.